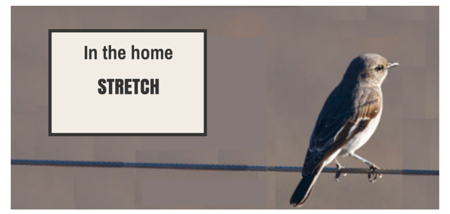 We're into the home stretch! If you've been keeping up, you should have a good collection of tweets and people you are following by now. If you haven't kept up, take some time this week to go over the previous weeks' assignments and do whatever you can. The more you do, the more comfortable you will feel with Twitter.
1. Catching Up Must Do's
If you haven't already:
Make sure that you have a bio that will help people identify you as a teacher librarian. People are much more inclined to follow you if your profile makes clear who you are. I never follow anyone (unless I already know them) without a bio that interests me.
Send me your Twitter handle yet, please get that to me using this Google form so I can follow you and add you to our class list. We still have a few class members I need that from.
Be sure to support everyone in our cohort group (including me) by following them. You should be able to view all the active members of the class on this list. The only tweep you won't see listed as a member of the list is me, since I created the list. It only just recently dawned on me that you can't add yourself to your own list!
2. Continue to Tweet
Keep up tweeting at least several times a day, and go for as much variety as you can when you tweet. Do include tweets about the CSLA conference (#csla100) and the Unconference (#cslauncon). (I'm counting on all of you being at the Unconference.) Retweet tweets that you like, but also see if you can add something to them, such as comments or relevant hashtags. Also continue to look for new people to follow. Remember, hashtags are your best tools for finding good folks to follow.
Remember when you refer to other people in a Tweet to use their Twitter handles. That does two things:
It lets other people find them on Twitter by clicking on the handle link.
It lets the people you refer to know about your tweet; they get a notification.
Also remember to use relevant hashtags in all your tweets. That lets anyone who searches for the hashtag see your tweets. If you don't include any hashtags in your tweets, only the people who follow you will see your tweets. That limits your ability to attract new followers.
3. Take part in a live Twitter chat
So, first, what's a live Twitter chat?
A live Twitter chat happens at an appointed/announced time. There is always a hashtag used to identify the chat. So, you can follow a chat by searching for the hashtag and watching the tweets with that hashtag as people post. You join in by adding that hashtag to each of your tweets.
Usually, live Twitter chats take place the same time each month or week. For example, the live #TLChat is at 5 PM PT the second Monday of each month. Live chats typically have two or more moderators who send out the questions. They start by asking everyone to introduce themselves. Then, they use Q1 for question #1, Q2 for question #2, and so on. People respond with A1, A2, and so on. You can also interact directly with other participants when you agree with them or have a comment or question about what they just tweeted. The moderators also usually archive the chat so that people who missed the event can visit a link and see the conversation. Here, for example, is the archive from the December 2014 #TLChat.
I can't pretend that live chats are relaxing. They aren't! They are stimulating, informative, and a great chance to interact in real time with other tweeps, from all around the state, country or even the world. I have connected with many new Twitter friends through chats. But, like I said, the chats aren't relaxing.  They are bit stressful, since you are going to see lots of tweets flying by at once at the same time you are trying to compose your own answers and comments. To "break in" to live chats, we are going to have a slow-paced practice chat just for our class this Thursday, January 31. Typically, chats last an hour. We're going for just a half hour, from 7:00pm – 7:30pm. So, please take part if you possibly can!
How do you participate?
Get on Twitter just before 7:00pm on Thursday, January 31, and search for #CSLAL2T. Click the All option to view all the tweets.
You will see tweets from your moderators: Marie Slim (@sraslim), Sharlene Paxton (@sharlenepaxton), and me (@jane_librarian). All our tweets will include the #CSLAL2T hashtag.
When we ask you to introduce yourself, share where you work, what level your students are, and anything else you like. For example, I might introduce myself by writing: "I'm the TL at Mira Costa HS in Manhattan Beach. Happy to be here! #CSLAL2T"
Stand by for Q1. When you see it, think about an answer, and compose one, being sure to include both A1 and #CSLAL2T as part of your tweet. It's okay to most more than one answer, too!
Watch the other answers posted by participants, and respond with comments, doing your best to keep the A1 and #CSLAL2T in all your responses.
Continue reading and responding to each new question.
Have fun! Don't worry if you miss something. Just read and respond to what you can.
After you practice with our small cohort, consider other regular live chats. Here's a good list of chats for librarians created by EasyBib. And, here's a very extensive list of educational live chats: bit.ly/officialchatlist. You can't get bored if you are on Twitter!
4. Twitter Tools
You can absolutely use Twitter all by itself, but there are a lot of other software tools out there that work with Twitter, and you will want to explore at least a few. This is anything but an exhaustive list, but, rather, a small selection of possibilities to consider:
Tweetdeck
Tweetdeck is a free web-based or downloadable desktop tool from Twitter. It allows you to display more than one account, hashtag searches, notifications, direct messages, and more simultaneously in different columns. In this example, I am displaying my main timeline, #TLChat, Notifications, and #CSLAL2T:
An especially nice feature of Tweetdeck is the ability to schedule tweets in advance. Whenever you write a tweet, you have the option of scheduling it for future distribution.
IFTTT
The IFTTT ("If This Then That") website lets you create and use "recipes" that perform a given task when something happens. IFTTT has lots of pre-defined recipes for Twitter and other tools, and it also allows you to write your own recipes. I use Diigo.com to keep all my website bookmarks in the cloud. I've set up a recipe that saves any tweets I favorite to my Diigo.com account. Other examples of what you can do with IFTTT include auto-posting a tweet each time you publish a blog post, auto-posting tweets to your Google+ timeline, and more. Take some time to explore the possibilities for automating postings to or from Twitter. Here's a direct link to Twitter-related recipes on IFTTT.
Storify
Storify is a free site that allows you to create stories, which you can link to or embed in a webpage, from social media. It is a great tool for creating a story based on Tweets. I have used it to merge my own tweets and those of others during a conference session or event. The site allows you to search for all your own tweets, other Twitter accounts, lists, and hashtags. Then, you select which tweets you want to include. You can also add text commentary. Whereas Twitter search displays tweets in reverse chronological order, Storify you can structure your story in chronological order. Here is an example of a story I created about my experience at the School Library Journal Leadership Summit last October. You may also recall from the Week 2 posting that I embedded tweets that Sharlene Paxton and I exchanged with Author Laini Taylor. I also used Storify to do that.
Paper.li
Paper.li allows people to publish a regular online newspaper based on tweets or other social media. I recommend checking out the TLChat Daily, created several years ago by Joyce Valenza, and subscribing to it. This online newspaper automatically compiles all the tweets with the #TLChat hashtag each day that contain links to websites or images. So, if you can't keep up with the #TLChat stream, you can see a daily compilation of key tweets in the newspaper.
I also created my own paper several years ago to allow me to view, on a daily basis, the tweets from people I am following and may have missed. As with the TLChat Daily, it doesn't gather every tweet, but it does compile tweets that contain links. I can also add content to it manually, but I have to admit that I never take the time to do that. Also, just for fun, I set up a daily tweet that announces when my paper is published each morning. To my surprise, quite a lot of people have followed me because they saw my tweet announcements. If you would like to check my paper, here is the link. Also consider creating your own paper to assemble key tweets from the people you follow.
Finally, a while back I created a #4CSLA paper. Sadly, though, not enough people are tweeting with the #4csla hashtag to make it an active paper. Right now, we are concentrating on using the CSLA conference hashtags (#csla100 and #cslauncon) and our class #CSLAL2T hashtag, but perhaps after the conference, we can work on building up the #4CSLA tweets.
6. Twitter beyond your PLN and PD
In this course, we have been focusing on using Twitter as part of your personal learning network and for professional development. But Twitter has potential in other areas. It's a great tool for learning about the news and has played a major role in political movements.  If you want to follow news coverage, you will find that all the major print and broadcast journalism organizations have Twitter feeds. Twitter is also valuable for research. Many experts participate in Twitter and will respond to questions if you or your students contact them.
Here are just a few ideas of how to use Twitter with students:
Encourage students to tweet as part of building a positive digital footprint.
Use Twitter as a PR tool. Send out announcements and reminders of library events and activities
Use Twitter to remind students and parents of assignments, tasks, and activities.
Have students look for experts in the field they are researching. They can follow their tweets and even contact them with questions.
As part of a unit of study, have students create accounts for historical or literary figures and carry on conversations as these figures. To see some examples, check these hashtags created for a 9th grade Mythology project I collaborated on with English teacher Laura Clarke last Fall: #ccmyths2, #ccmyths3, and #ccmyths4. I took part in this project as @GreeceOdysseus. Please contact me if you are considering a similar project; I have a blog post in the works about some of the issues we encountered and have ideas to avoid next time.
For many more ideas for using Twitter with students, check this "60 Ways To Use Twitter In The Classroom By Category" by Jayne Clare. Also check the Resources page on this site for links to more ideas.
7. Recruit new tweeps
Now that you are becoming a Twitter regular, it's time to recruit new tweeps to our ranks. Talk up the value of Twitter face-to-face with your co-workers, with other TLs and school library folks, and on any other social media you participate in (for example, Facebook). Feel free to refer them to this website for help getting started. Be sure to promote Twitter at the CSLA conference!
8. Share the Conference Twitter Badge
Please share this badge on Twitter, and on any other sites you post to, such as a blog, website, or Facebook.
9. Course Badge & Evaluation
Please stand by until later in this week for a class completion badge, as well as a course evaluation.
Happy tweeting!