This is the week to start tweeting in earnest and following people.
1. Share Twitter Account Information
If you haven't already filled out this form posted in our Google+ Community, please fill it out now with your Twitter handle:

I will be using the data in this form to add you to two lists (explained below), and it will help all of us follow each other.
2. Tweet at least 2 tweets per day
Make it a goal to check Twitter at least a couple of times each day. Later, you will probably want to increase that, and you certainly will want to do a lot more tweets while you are attending live or virtual events, but do just ease into it slowly. And, don't get stressed if you miss the goal some days. I have many days when I just can't get on Twitter at all.
So what can you tweet about? Hopefully you got some ideas as you were browsing through tweets last week, but here are some ideas for the type of things to tweet:
Links to great sites, blog postings, etc. you find
Links to your own blog postings, website, etc.
Photos, videos, & vines
Responses to other tweets
Quotes, notes from conference sessions
Announcements about events, activities in your library
RT – retweets and MT – modified retweets of good stuff
Some just fun stuff. My personal recommendation is that you make perhaps 10 – 20 percent of your tweets in this category. I used to post only serious, professional stuff, but after following some of the more savvy tweeters, I realized that it is nice to demonstrate some sort of personality. But, don't spend too much time on frivolous tweets, or people may be less likely to follow you.
When you tweet, use relevant hashtags. Hashtags allow people who don't already follow you to see your tweets. Here are some to consider using this week:
#TLChat – This is the hashtag for school library tweets around the world. I don't add #TLChat to every tweet, but I generally try to include it in any tweet of interest to school librarians.
#4CSLA – This is a hashtag CSLA created a while back for CSLA-relevant tweets. Unfortunately, we haven't been using it enough. Let's change that! Include it in all the tweets you can that include content of interest to those of us in CSLA and California school libraries.
#cslaL2T – This is a hashtag Sharlene suggested just for this class.
#csla100 – This is the hashtag for our upcoming conference. If you write a tweet related to the conference, include this.
How many hashtags should you use in a tweet? I believe that general Twitter etiquette suggests not more than three. (Some sources say just two.) So, use hashtags, but select them with care.
3. Study up on Etiquette
Like any world, the Twitter world has some expectations for good manners or etiquette. Here are my five top tips:
Do onto others …. You get it; always, always be polite with what you write.
Give credit … Any time you post something, acknowledge the source. If you know or can find the creator's Twitter @handle, use that. If not, give his/her name and a link if you can. And, be generous with thanks for anything someone posts about you.
Don't spam, i.e., don't send out or forward ads, etc.
Don't overshare. Don't share information that followers and potential followers won't be interested in.
Always be positive. Griping is never attractive and rarely appreciated by readers
Check this guide for some good suggestions about Twitter etiquette.
4. Start Following People
Once you have posted a few tweets – let's say at least eight – it's time to start following people, if you haven't already. I'd suggest starting with the list of people I gave you to search last week: @jane_librarian, @sraslim, @sharlenepaxton, @shannonmmiller, @joycevalenza, @NikkiDRobertson, @jenniferlagarde, @mauilibrarian2. Don't take it personally if people don't follow you back. Some do as a matter of course and others don't or may be too busy to check your bio when notified that you followed them. You can count on Marie, Sharlene, and me to follow you! And, let's start a community within this class. Do please follow all your classmates. Here's a link to the spreadsheet created from the Google form that will list everyone.
5. Learn How to Shorten Links to Allow More Space in Your Tweets
One of the challenges of Twitter is fitting your thoughts into 140 characters. My most frequent tweets are ones with links to a website, blog, or other online source I found valuable. Links, though, can take up a lot of characters. There are a number of URL or address shorteners out there. I'm just going to share my favorite, which is bit.ly.
You don't need an account to use bit.ly, you can just go to the site, paste in a URL:
Once you click Shorten, you will see a screen with your short URL: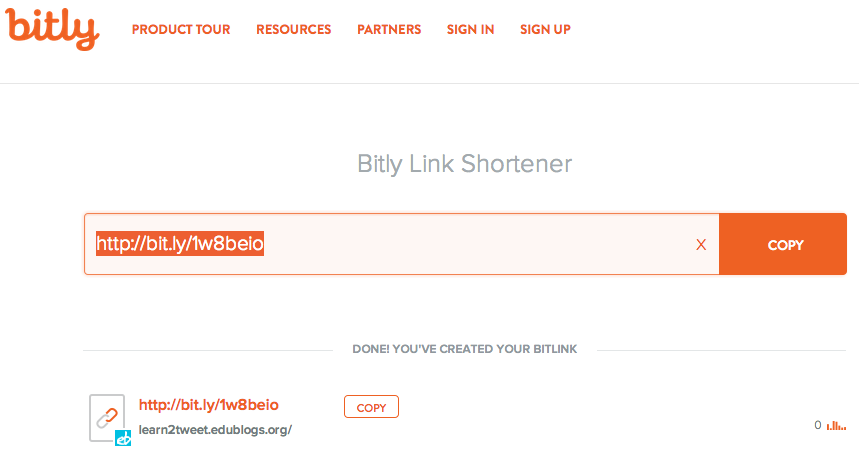 Just click either of the COPY buttons to copy the URL. As you can see in the example above, the URL is now 21 characters. But, you can actually make it shorter. When you paste it into your tweet, delete the http:// part. Twitter doesn't need the http:// to recognize it as a URL link. So, bit.ly actually can make your links as sort as 14 characters.
And, while I said you don't need an account to use bit.ly, I'd highly recommend opening one. Accounts are free and have a lot of nice features, including the ability to:
Create and share links with the Chrome extension or bitmarklet button for other browsers. When I find a website or blog I want to share to Twitter, I don't even have to navigate to Twitter. I just click the bit.ly extension icon in my browser, and I see a pop-up that lets me compose my tweet with the shortcut link already included.
Customize links. The customizing feature isn't really important in a tool like Twitter in which people will be clicking on the link, but it can be very helpful when people need to read a link and type it themselves. So, since I'm talking about bit.ly, I can't resist sharing it. For example, it is a lot easier to accurately type bit.ly/learn2tweet than bit.ly/1w8beio, even if it is a bit longer. One thing to remember if you customize bit.ly links is that they are case sensitive.
Track clicks on your links. With a bit.ly account, you can tell how many people have clicked on your shortcut.
So, unless you already have a URL shortener that you love, do check bit.ly out, open an account, and start using it with Twitter and elsewhere.
6. Engage in Conversations
Be sure as you tweet this week that you not just send out useful tweets, but engage in conversations with people. If you like what someone says, send a reply with a suggestion, compliment, or extension of what they wrote. Don't be disappointed or take it personally if you don't get a reply. Remember that people are busy. But, you never know where a conversation will go. Here's an example:
7. Subscribe to Our Class List & the CA Librarians List
An easy way to find out about good people to follow is by taking advantage of other people's lists.
I have just created a list just for members of this class. It's called Learn2Tweet Class. To view it, just click the link, then click Subscribe:
Subscribing doesn't add you to a list (although I will be adding all of you to this list), but it allows you to view all the tweets of the people on the list. Further, subscribing to a list doesn't automatically follow the people on the list, but it gives you a way of viewing their tweets and finding good people to follow. You will notice that there are a number of options below the Subscribe button. If you want to view a list of all the members of the list, click List Members. That displays the bio for each list member and provides a Follow button you can use to follow each of them.
Another list to follow is CA School Librarians, a list I started a year ago to try to gather all the CA school library people on Twitter. I will be adding all of you to it, and do subscribe to this one also.
To access lists you subscribe to, click on your Photo/Avatar, and select the Lists option:
It will display a list of all your lists.
8. Subscribe to Other Lists
While the above lists will help us communicate with each other, it is also time branch out and start finding people from around the country and around the world to follow. There are a lot of great lists out there. One I would recommend is Joyce Valenza's librarians list. You will find a lot of good options to follow there you may want to subscribe to as well. And, once subscribed, set aside a few minutes each day this week to view the lists and look for people you may want to follow.
For more help on Lists, here is the Twitter Lists Help page. Twitter offers lots of good help information. You can access Twitter help by clicking your Avatar/Photo, and selecting Help from the drop-down.
9. Contribute to our Google+ Community
Please share questions, comments, ideas and suggestions with our cohort in our Google+ Community.